Sometimes you know what you're after and in Jordan's instance, our ever-popular bone was one that immediately stood out. Jordan reached out to us from New South Wales and asked a few questions about his unique situation. A few of his groomsmen were in Victoria and he needed help coordinating everyone. Needless to say, with our large network of partners, we were more than happy to help. To make sure that it was the right colour, we sent through a fabric sample free of charge and after looking at it, he knew exactly what he wanted. Sure enough, he fell in love and we were in business.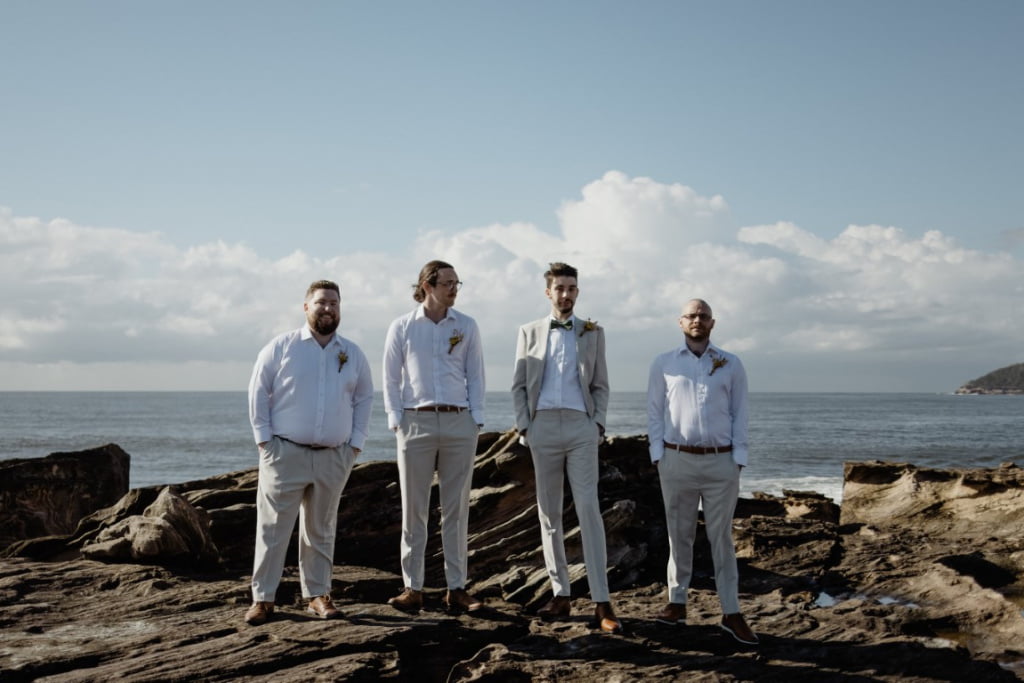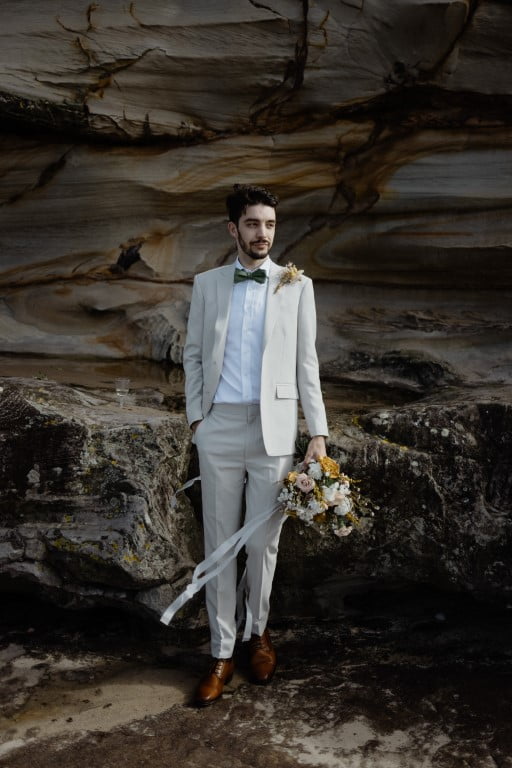 We organised to have Jordan measured at no extra cost at one of our professional partner businesses in the heart of the Sydney CBD and invited his groomsmen in Victoria to get measured in our home base in Victoria. We took the stress out of the situation by managing the process and coordinating the groomsmen directly. Once the suits were ready, Jordan wanted a few preferential adjustments made which we organised for him at no extra charge as part of the service. And speaking of service, we went as far as hand-delivering one of our garments to a groomsman who couldn't make it in to see us.
Styling-wise, we opted to keep it very clean with a notched lapel and a 2 button configuration. This modest styling helps to keep with the simplistic theming of the event and helps with the verstaility of the garments after the fact. We kept the pant break quite high to create a clean look that complemented Jordan's frame. A spot of colour is delivered by the green bowtie that helps to create some uniqueness. The look overall is modern, clean, and fresh.
And against the beautiful rocky landscape, the overall look is harmonious and pleasing to the eye, with enough visual variability to be special. The Bone is a wonderful choice for the groom that wants to paint their own picture and we thank Jordan did a great job with his. Thanks so much, mate! A pleasure.
Alexander Pillai
Founder and Lead Suitably Wedding Expert
READY TO GO? GET IN TOUCH TODAY.
Fill in the form with some basic details and a consultant will be with you within 24-48 hours.
We recommend that you get in touch 2-6 months before the wedding but if you need something in a rush, get in touch as soon as possible and we will do what we can to help.
We're here to help